Welcome To The San Diego County Lodging Association
The San Diego County Lodging Association is a federation of hotel and motel owners and operators representing approximately 20,000 rooms in lodging establishments throughout the county. Members range from small family-owned properties to major convention hotels.  The Association also represents allied member businesses that are affiliated with the San Diego visitor industry.
The mission of the San Diego County Lodging Association is to serve the needs of our members with resources and communication on education, technology, human relations and other industry issues; and to provide advocacy and representation on legislative and regulatory issues at all levels of government.
The Association also represents the viewpoints of the lodging industry to the public through a positive public relations campaign focusing on the local news media.
---
SDCLA Events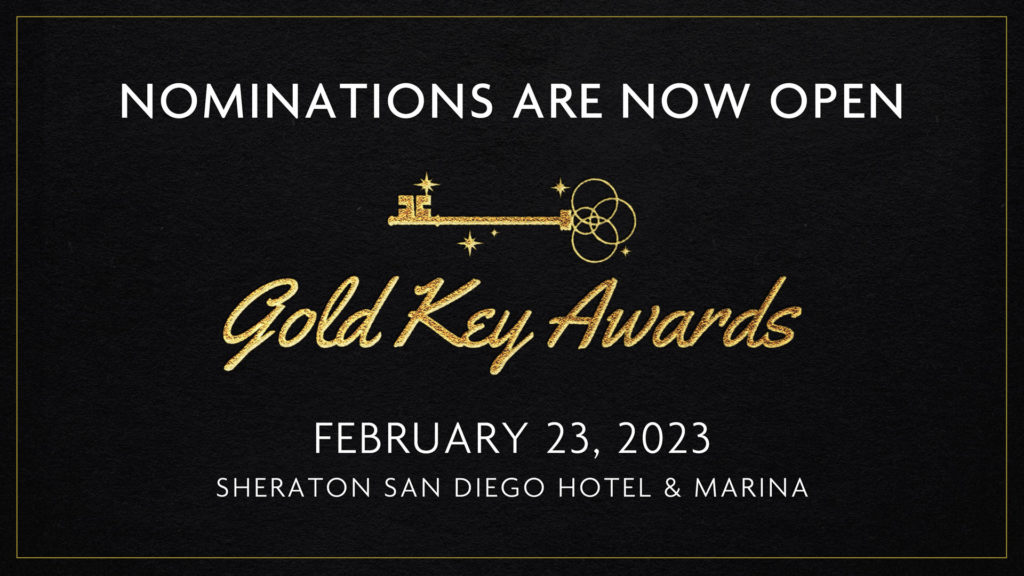 The Gold Key Awards celebrate the truly exceptional professionals that exemplify the very best of the San Diego hospitality and tourism industry. 
It is again time for us to honor those who have made significant contributions to the betterment of our industry during the past year. The 43rd Gold Key Awards presentation, co-hosted by the San Diego County Lodging Association and the Hospitality Sales and Marketing Association International (HSMAI San Diego), will be held on THURSDAY, February 23, 2023, at the SHERATON SAN DIEGO HOTEL & MARINA. Nominations and event registration is now open.
Nominate the stars on your team and let them know how much you value the passion and talent they bring to work each day. Hotels may be required to join the appropriate association in order to be entered. Nominations are due by NOON on February 1, 2023.
---
SDCLA MEMBER BENEFIT
HUMAN TRAFFICKING AWARENESS TRAINING
SDCLA members can access human trafficking prevention training at no cost through our partnership with Businesses Ending Slavery & Trafficking (BEST). Everyone who completes the training will receive a certificate and be in compliance with California Senate Bill 970, which requires that hotel and lodging employees who are likely to interact with victims of human trafficking undergo at least 20 minutes of human trafficking awareness training and education.